Video content plays a very important role in the field of modern Internet, such as social networks and advertising. So, in the past, the videos were simple and naive, but in the modern world, this theme has changed a lot. In order for subscribers and potential customers to be interested in the product, service or blogger, video content must be very high quality and useful. There is also big competition in the global market that affects this situation, so you should take your videos seriously.
Today, staged videos with playful smiles and memorised long texts have become irrelevant among users. There is a new era of sincere videos that will show users interesting things like bloggers who communicate with users on equal terms. Especially since trends change so quickly that users have to react quickly and understand the relevance of modern realities. Today, even unpopular brands can create a smartphone video and earn millions of views. Video editing software on the phone helps us in this. In this article, we will talk about the best programs that are relevant in 2022.
CapCut Video Editor
It is a smartphone program for video editing, which is very popular in many countries of the world. It is free for users, but it has great functionality and wide possibilities too. It has a beautiful and user-friendly interface and functions on platforms such as Android and iOS.
There are some strengths of it:
the ability to add text and music;
many transitions;
scalability;
colour correction with different effects;
titering.
And weaknesses:
connection with 4K video is not available;
many tools are available for a fee;
it doesn't work offline.
Adobe Premiere Rush
We do not want to forget about such a program when we describe programs for video processing on the phone. This video editor can be used on both PC and smartphones. It has a user-friendly interface and high speed of uploading, which will surely please you and will not leave you indifferent. It operates on platforms such as macOS, Windows, iOS and Android.
Its strengths:
a large number of functions;
formats for different social networks;
titer templates.
Some weaknesses:
limited selection of music for editing;
only few effects;
more features can only be used for a fee.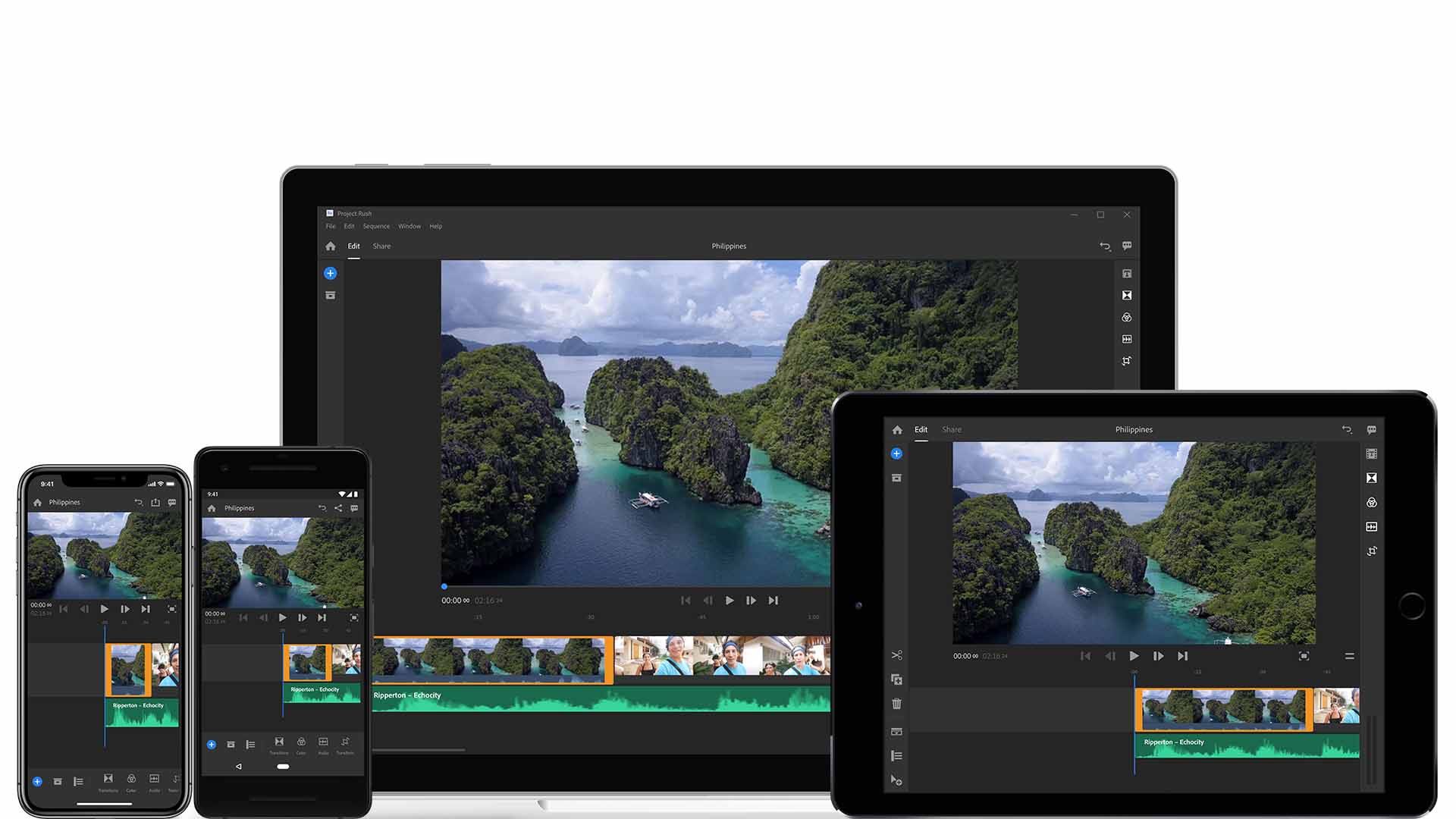 Go Pro Quik
If you are looking for high-quality video editing software on your phone, you should pay attention to this video editor. The videos that you get with this program, you can use the built-in file manager in your smartphone. This program can create videos by itself, because it will select the transitions and the necessary tools correctly.
Its strengths:
various fonts;
unusual transitions;
items with GoPro video;
items with panoramic photos and videos.
Its weaknesses:
not all instruments are free;
the 4K video is not played there.
InShot
Programs for video editing on your phone can be different. They are presented in the modern market in a large assortment. InShot is one of the popular free video editors that will give you great functionality. So, it has a beautiful interface and a large selection of video editing tools. Users who want to make simple editing or animation, will be able to use this program to the maximum.
Its strengths:
set of storage;
a lot of free opportunities;
simple interface;
filter set.
And weaknesses:
there are some glitches in large video files;
advertising is a common thing out there.
So, in this review, we described the most popular video editors, which are very popular among users in many countries of the world. With the help of them you will be able to create high-quality content for Tic Tok and other social networks.