The Ultimate Guitar Tabs & Chords is considered by many users to be the best application on the guitar tablature market. It has a huge collection of songs and tablatures, an easy-to-use interface, and many more interesting and useful features. The application has a staggering number of guitar TABs.
There are several reasons why Ultimate Guitar Tabs & Chords is so popular. To begin with, the application has a really nice and clean design that makes it very easy to use, even for new users. The app has a lot of information on how to use tabs to learn music, which is very handy if you've never done it before.
Ultimate Guitar Tabs & Chords application also has a large collection of guitar chords that are sorted alphabetically by an artist or a song title. This makes it easy to find exactly what you're looking for without having to flip through thousands of pages on your phone!
The Ultimate Guitar Tabs & Chords app also includes audio examples for each chord so you can hear what they sound like before you play them yourself – this is another awesome feature that makes learning easier than ever before!
Features of the Ultimate Guitar Tabs & Chords application
The application has a tablature database that contains over 1,000,000 tablatures that you can browse through in order to find your favorite songs. The app also offers daily tablature updates from a community of tablature writers and editors. You can also upload your own tablatures or edit existing ones. All in all, there are a lot of actions you can do in the app.
The application has an extensive chord library with over 250,000 chords. If you are looking for chords to play any song, this is exactly where you should look. The application also offers you chord charts, which include various options, like standard or jazz.
The app has intuitive navigation as well as a search engine to quickly find your favorite artists or songs. You can also search by genre, including rock, indie, metal and pop. Within each song list there are additional tags that provide information about the song's difficulty level, whether it has lyrics or chords, and even whether it's just instrumental music.
The Ultimate Guitar Tabs & Chords collection is constantly being updated; users can submit their own tablatures to add to the collection for other users. You can also edit existing tablatures to improve accuracy and save them to the collection as well.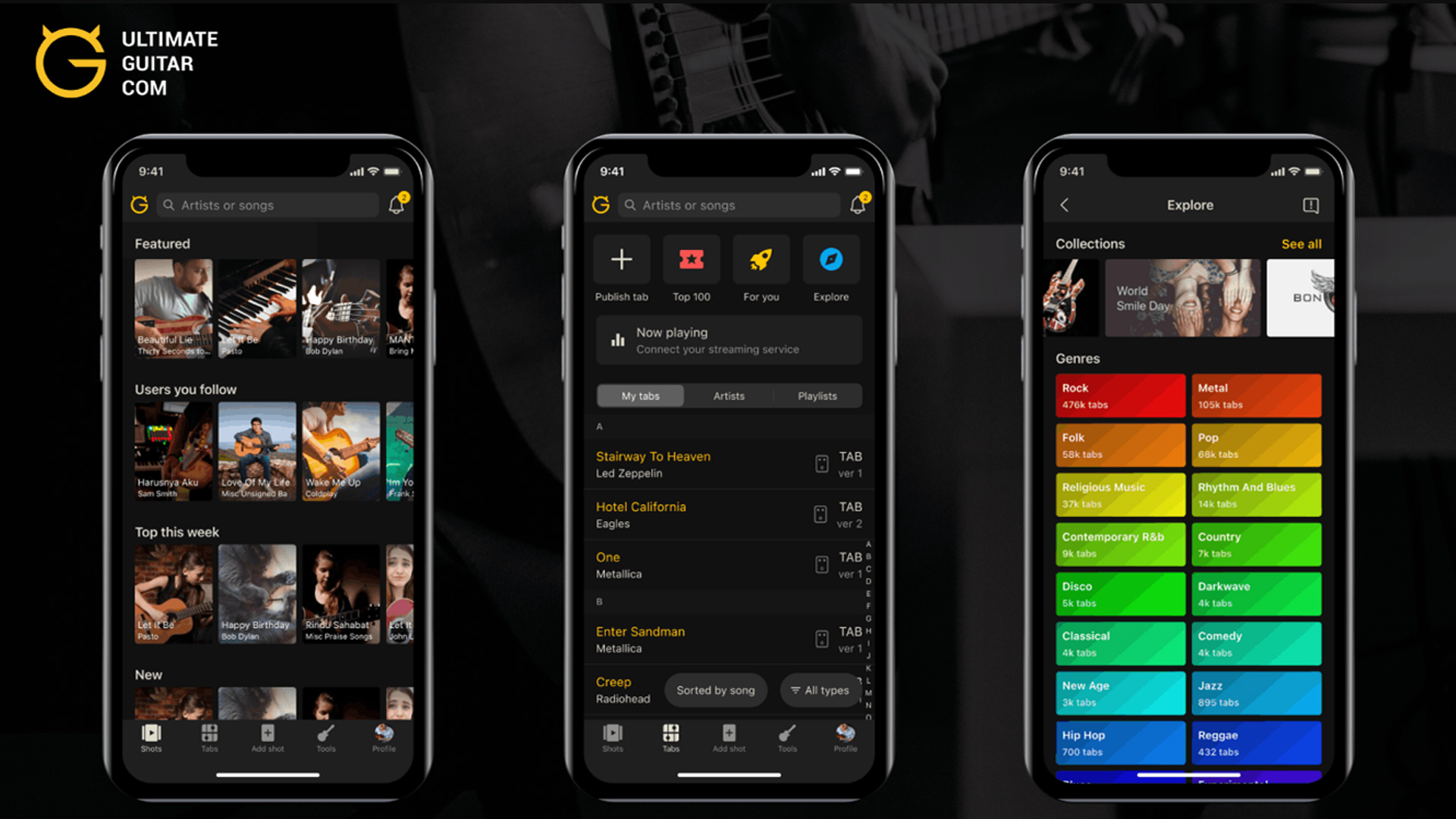 Ultimate Guitar application also offers some social features for those who want to communicate with other musicians. You can upload your own tablatures and share them with other users, as well as create playlists and work on songs together with other users. The app has a forum where users can share their playing tips or ask questions about specific songs.
The fact that the app is community-based has both good and bad points. It's good because it means there is a massive range of transcriptions available. The bad aspect is that many of the transcriptions aren't accurate. So you need to learn to identify accurate transcriptions.
If you're a more advanced guitar player, the application can help you with such things like music theory and ear training. A new tool called "tab pro" allows users to access interactive "study packs" that include hundreds of lessons and thousands of actual performances of songs by famous artists such as Metallica, The Animals and Bob Dylan.
Features and advantages of the application:
1. Powerful tablature search system.
2. Search tablature by type: official, text, chords, guitar pro and power.
3. Huge catalog of scales and chords (including left-handed variants).
4. There are chord diagrams with the location of the notes on the fingerboard. Each chord has several variations.
5. You can find chords for ukulele.
6. There are tablature and chords for basses in the app collection.
7. Auto-scrolling feature: easy reading without hands.