Choosic is a new music application that lets you select music with a simple and familiar swipe gesture. It is very similar to Tinder as it shows you one song at a time and two buttons: "like" and "dislike. You can also skip a song if you don't like it, but the very idea is to help people discover new music by using swipe gestures. The app slogan is " We make music discovery at the swipe of a finger".
Whether you're looking for familiar tunes or some fresh tracks, Choosic app seems to have it all. You can also specify your preferences in the settings. There's even a smart feature that lets you rate and filter songs based on your mood.
No more boring playlists, no more heavy search queries or endless scrolling through the charts. No ads, no subscription, just you and the music you love. Just choose your mood and start listening to the music that suits you at the very moment.
The application perfectly tunes in to your emotions, so you can discover new songs that are perfect for your mood right now. Choosic's intelligent recommendation algorithm learns your musical taste by asking one simple question: "How do you feel?".
Choosic application benefits
Quick navigation. Instead of pressing buttons for play, skip and pause functions, users simply swipe left and right. For people who like to listen to music in short bursts (for example, while riding the train), this is a much faster and more convenient way to listen to many songs in a short amount of time.
Discovering new songs. Choosic creates playlists based on the user's preferences (as indicated by their swiping) and sends the user push notifications when new songs appear. This means users can hear songs they didn't know about before.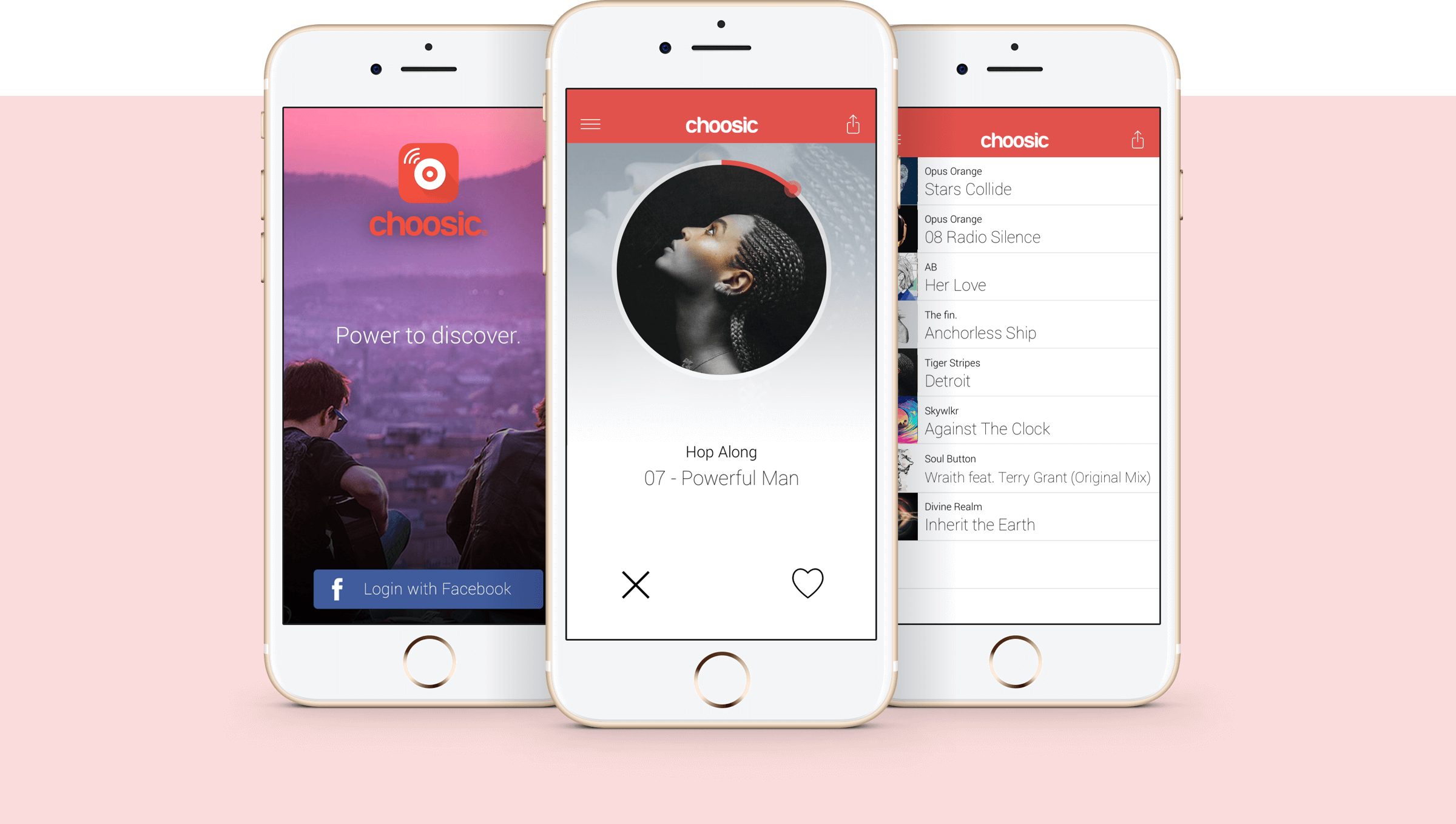 All of the music in the Choosic application is licensed by a major record label, hence, there are no ads. The only catch is that users have to pay for the music if they really want to download it. So when you swipe to the right (which means you like the song), Choosic will give you 99 cents off the purchase price of the song on iTunes. A small price for the opportunity to listen to good music.
The nice thing about Choosic is that it learns as you use it. Once you get the hang of it and choose more songs, Choosic will be able to play exactly the music you like. It learns your preferences, your favourite genres, singers, music bands and over time it can offer you the music that perfectly suits your taste.
Social integration. Choosic is a social streaming service that includes the feature to share music with your friends, discover new music, and chat with other music admirers in real time. Chat functionality. Choosic allows you to create group chats and discuss songs with other users in real time. The application even makes it easy to add people to a group while chatting, so you can discuss a song in a wider circle.
The Continuous Discovery feature generates recommendations for new artists based on the ones you already like. So, if you're a fan of The Black Keys, for example, the application can suggest other blues-rock bands you should listen to. Sometimes this feature helps you to find the real treasure. Playlists are music selections created by Choosic editors, who work closely with the artists on the platform and hand-pick songs for listeners.
Artists is a tab where you can find all the artists featured in the application. You can listen to their discography or visit their profile to follow them and receive notifications when their new songs are released. It is a very convenient feature as it gives you the possibility to stay in touch with your favourite singer. The app also provides the ability to search by genre, mood or type of activity. So if you want to relax after work or have fun with friends, Choosic will direct you to the right music station or playlist.